Is this post about autism?  No, it isn't.  Then again, I don't always blog about autism.  Tonight's post is about another topic of which I am very passionate about.  I'm an advocate… what can I say?
I like chocolate, but I don't love chocolate.   I know a lot of people who can't live without it; I think they call refer to themselves as "chocoholics".
Most of us don't always pay attention to how that tasty bar or little kiss came to be.  We don't normally put a whole lot of thought into it because we don't want to ruin the moment.
Some of you may only look as far as the label and that may very well be the extent of your concern.
Then again, some of you may look beyond it, and see the dirty little secret that most chocolate sellers don't want you to know.
Man!  I feel like this post is about to turn into the sequel of The Da Vinci Code©. 😉
The following is an excerpt from a Global Exchange article.
In 2000, a report by the US State Department concluded that in recent years approximately 15,000 children aged 9 to 12 have been sold into forced labor on cotton, coffee and cocoa plantations in the north of the country. A June 15, 2001 document (PDF 850kb) released by the Geneva, Switzerland-based International Labor Organization (ILO) reported that trafficking in children is widespread in West Africa. (For ILO definitions of these labor violations, see ILO Convention 182 on Child Labor ILO Convention 29 on Forced Labor.)
These child laborers face arduous work, as cacao pods must be cut from high branches with long-handled machetes, split open, and their beans scooped out. Children who are involved in the worst labor abuses come from countries such as Mali, Burkina Faso, and Togo — nations that are even more destitute than the impoverished Ivory Coast. Parents in these countries sell their children to traffickers believing that they will find honest work once they arrive in Ivory Coast and then send their earnings home. But as soon as they are separated from their families, the young boys are made to work for little or nothing. The children work long and hard — they head into the fields at 6:00 in the morning and often do not finish until 6:30 at night.
I know folks have to make a living, and there was a time when I could be seen wolfin' down a Snickers®, or a Three Musketeer®, or some other chocolate confection.
But those days are over, and I've since discovered that chocolate can still be sweet… sans child labor.
What's keep folks from not being overly concerned with fair trade?  Sadly, its the price tag that's usually a deterrent.
Is he worth it?
Are they?
How about him?
What?  No school for Semi?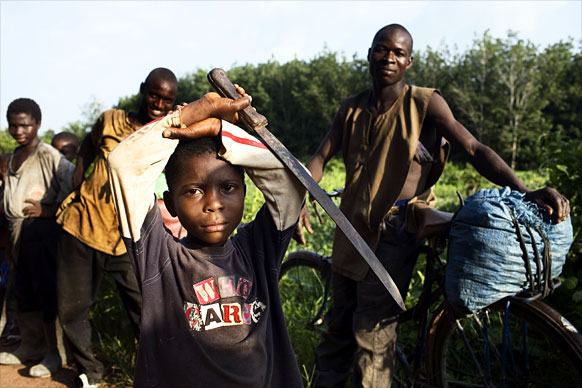 Thankfully, there is a solution to this madness!!  Everybody deserves to be treated fairly, don't you think?
Buy only Fair Trade Certified!
Fair Trade Overview

Fair Trade Certification empowers farmers and farm workers to lift themselves out of poverty by investing in their farms and communities, protecting the environment, and developing the business skills necessary to compete in the global marketplace.

Fair Trade is much more than a fair price!  Fair Trade principles include:

Fair price: Democratically organized farmer groups receive a guaranteed minimum floor price and an additional premium for certified organic products. Farmer organizations are also eligible for pre-harvest credit.
Fair labor conditions: Workers on Fair Trade farms enjoy freedom of association, safe working conditions, and living wages. Forced child labor is strictly prohibited.
Direct trade: With Fair Trade, importers purchase from Fair Trade producer groups as directly as possible, eliminating unnecessary middlemen and empowering farmers to develop the business capacity necessary to compete in the global marketplace.
Democratic and transparent organizations: Fair Trade farmers and farm workers decide democratically how to invest Fair Trade revenues.
Community development: Fair Trade farmers and farm workers invest Fair Trade premiums in social and business development projects like scholarship programs, quality improvement trainings, and organic certification.
Environmental sustainability: Harmful agrochemicals and GMOs are strictly prohibited in favor of environmentally sustainable farming methods that protect farmers' health and preserve valuable ecosystems for future generations.

TransFair USA, a non-profit organization, is the only independent, third-party certifier of Fair Trade products in the U.S. and one of 20 members of Fairtrade Labelling Organizations International (FLO). TransFair's rigorous audit system, which tracks products from farm to finished product, verifies industry compliance with Fair Trade criteria. TransFair allows U.S. companies to display the Fair Trade Certified label on products that meet strict Fair Trade standards.